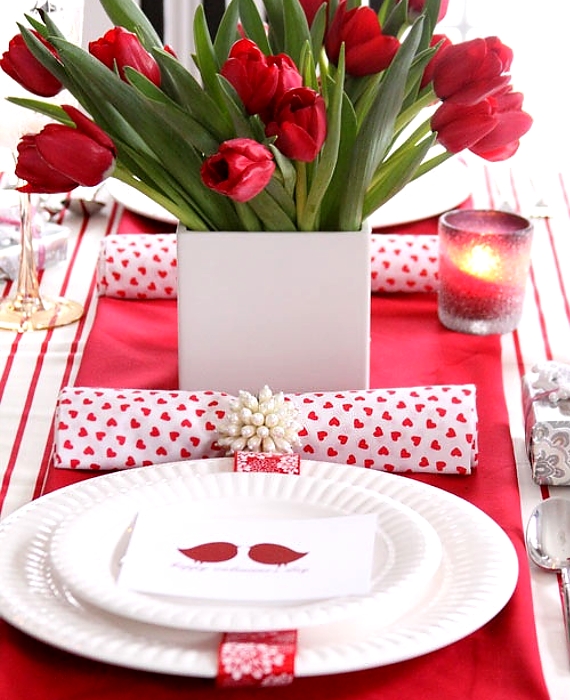 So you want to make your own Valentine's floral arrangement?
Sure thing. Save some money and show your sweetie you care by doing it yourself.
As a bonus, we also included some creative DIY Valentine's Day gifts:
Step 1: When it comes to Valentine's Day flowers, pick the freshest of the fresh
Wilted blossoms beware! Seek out only the freshest. Get ready for Valentine's Day florist with fresh roses, carnations, lilies, or other flowers of your choice.
Step 2: Whether it's Valentine roses or orchids, select a vase that suits your Valentine's floral arrangement
While you set up your vase of choice, make sure you first snip about a half inch from the bottom of your flowers' stems and put them in water.
Step 3: Creating your Valentine's floral arrangement
If you're using a traditional glass vase, then simply arrange your flowers, beginning with the longer stems and larger blossoms on the outside, then building your way inward with smaller blooms, greenery, and filler flowers. Occasionally add a bigger and more colourful blossom in the middle or centre of the display for a more dynamic look and colour pop. And that's your perfect Valentine's floral arrangement! However, if you are getting creative with your container, say, using a ceramic jug or coffee mug, or some other kind of non-traditional vase for your Valentine flower arrangements, then you want to be sure to use foam. You can easily pick some of this up at a Valentine's Day florist or arts and crafts supply shop.
Cut the foam to the appropriate size,
Soak the foam in water,
Place it into the container, add additional water,
Add the flowers by inserting the stems.
Cut and tie a silky piece of white, pink or red ribbon–and you're finished!
Give a romantic bottle of red wine with your Valentine's floral arrangement
As if red wine weren't romantic enough, right?
Well, you can dress up your Valentine's favourite bottle of red (or white) wine with a bunch of adorable homemade red paper hearts. The hearts are easy to trace on the paper, then all you need to do is cut them out. Glue or tape your red paper hearts around the wine bottle.
Valentine's gifts for her she won't forget…and may just be better than flowers delivery
Valentine's flowers delivery is a given if you want to make it into the boyfriend or husband hall of fame. And sure, you could just send a bouquet of flowers and call it a day, but if you really want to send Valentine's gifts for her that she'll undeniably love (and love you all the more for it), then try out some of these Valentine's flowers and gifts. Weeks later she'll still be thanking you!
The best Valentine flowers
Of course, you're in love with her just as much as you were the day you were married (or started dating), but that doesn't mean you're limited to a bouquet of roses. What are the best Valentine flowers?
If you want a flowers Valentine's gift for her then you might start with her favourite flower… But if you don't know it, and you're buying a last-minute bouquet, you can look for Valentine's Day florist that serves up big and beautiful bouquets of peonies, ranunculus, orchids, and combinations of flowers for Valentine's floral arrangements.
Put a twist on the Valentine's Day gift baskets
Ah, yes, the gift basket…what exactly comes in the gift basket?
The nice thing about Valentine's Day gift baskets is that you can really create and fill them with all kinds of goodies, or order them online, and it's usually something that the two of you can enjoy together. Valentine's gifts for her might require a bit of detective work, or it could be a test of how well you already know your Valentine. Instead of standard order sweet and savoury basket items, try including her favourite bottle of wine, or a sweet-smelling gift-wrapped box of the perfume she wears (you can even spritz a little bit around the outside to give her a hint at what's inside).
Sending these to her work or office will help her feel special around her friends and work colleagues and win you some serious brownie points! There is also the option of going the practical route for Valentine's Day gifts and giving her a brand new winter hat (the ones with pom-poms and cute, bright colours are usually a safe buy!), reusable coffee mug, water bottle for when she goes to yoga, or a fancy and brand new shiny case to cover her smartphone. If she drops it later, she'll be sure to thank you! If you want to say no thanks to the basket and make your Valentine's day gifts for her a little more, say, interactive–or adventurous–then why not go for a wine tasting.
If all else fails…Valentine's Day flowers and chocolates
If all else fails and you're short on Valentine's ideas, let's say all your creativity is drained and brainstorming has come to nought, then Valentine's day flowers and chocolates might be the perfect way to go. Ring up a Valentine's Day florist and order a dozen red Valentine roses or a big bouquet of her favourite flowers…you do know her favourite flower, don't you? And in the end, of course, there is something to be said for a traditional romance.
After all, how did you woo her in the first place?
Pair that up with a flower bouquet, or even apply the same Valentine's Day makeover to a six-pack or case of beer! Without a doubt, your sweetie will be smiling and swooning in appreciation.
The DIY alternative flower bouquet (in place of Valentine's day gift baskets)
This one might require a little more planning and prep, but if you've got the time it can be well worth it. Variations include the mini bottle boozy bouquet, made up from tiny bottles of your favourite liquor, and the sweet treat candy floral arrangement, which transforms fine chocolates or mini candy bars into an expression of your love. All you need are sticks of flower stem length and width, which you can find at any crafts or art supply store, and the same foam you used for the fresh Valentine's floral arrangement. Glue your treats to the sticks and then arrange them as you wish. Valentine's flowers and chocolates are always a winner.